Overseas Chinese art resource is a primary carrier for spreading Chinese culture and also an essential resource to promote Chinese art and culture studies. Since modern times, many precious Chinese ancient cultural relics have been scattered around the world. Nowadays, international art exchanges become increasingly close-related. In the 1990s, there was a boom in the discussion of Chinese art in the world. In recent years, the inter-museum loan of collections between Chinese and foreign museums has also contributed to many high-quality exhibitions. In the face of overseas Chinese art resources, we need to build a comprehensive mechanism for collection, conservation, and research. Zhang Zikang, director of CAFA Art Museum, has rich experience in the management of art museums and has in-depth research on the operation mechanism of foreign museums and art galleries. He has an insight into different characteristics and advantages of private, public, and university art museums in China. Starting from his experience and perspective, he helps us explore ways and methods to excavate the value of overseas Chinese art resources and to better serve society with the "Intellect" collected by art museums.
The Operation Mechanism of Foreign Museums and its Enlightenment
Gou Mengyuan (Presenter of "Art Observation"): Mr. Zhang, you have specialized in the operation thinking of foreign museums and art galleries. What do you know about the current situation of Chinese art resource collected abroad? What do you think are the characteristics of foreign museums in utilizing these resources?
Zhang Zikang (Director of CAFA Art Museum): As far as I know, on the whole, the overseas collection of Chinese art resources is very large in scale, and there are quite a lot of rare and unique works. Statistics from the UNESCO show that more than 10 million pieces of Chinese cultural relics and artworks have been lost abroad, and over 1.67 million pieces are collected in at least 200 museums in 47 countries. The main reason for this situation is the loss of cultural relics in China during the war years at the end of the 19th century and the beginning of the 20th century. From then on, calligraphy and painting scrolls, ancient porcelain, bronze ware, and ancient rare books and literature have been flowing into the world through various channels. After the loss of these valuable art resources abroad, many of them are kept by major foreign museums, art galleries, and collectors specializing in Chinese art collection through dissemination and donation, thus forming a vital database of Chinese art studies. For example, in New York's Metropolitan Museum of Art, the total number of its Chinese cultural relics is close to 20 thousand pieces, including bronze ware, jade ware, gold and silver ware, lacquerware, sculpture, ceramics and textiles, and so on, such as Gansu painted pottery of the Neolithic Age, the hard pottery of the Warring States Period, the celadon of the Han dynasty, the three-color glazed pottery of the Tang dynasty, as well as the famous folk kiln and imperial kiln's porcelain of the Yuan, Ming and Qing dynasties. There is also an extensive collection of Buddhist art in the museum, such as the gilded bronze niche for the Buddha of the Northern Wei Dynasty (in 524) and the huge murals of the Guangsheng temple in Zhaocheng, Shanxi Province, and the former is one of the largest and most complete gilded bronze Buddhist niches in existence. In addition, the British Museum, the Cleveland Museum of art, and the Chicago Museum of art also have a rich possession of Chinese art resources.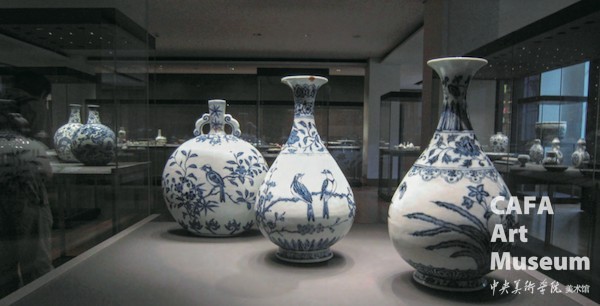 The David Foundation's collection of Chinese ceramics, hosted by SOAS, University of London, has long been on display at the British Museum

Apart from a systematic collection of Chinese art, many famous large foreign art museums also carry out a comprehensive study of Oriental art or Chinese art accordingly. From the perspectives of art history, culture history, and visual culture, they make use of these precious material objects and historical documentation to conduct a study and support relevant research work. Overseas museums have relatively high requirements for researchers' research level. On the one hand, researchers should complete the basic task related to collection and exhibition, and so on; on the other hand, they should also publish works and produce truly high-level research results. At the same time, there should have corresponding foreign museum funds and other forms of sponsorship to support researchers for visits and investigations. Many major overseas museums attach equal importance to exhibitions and academic research, and further enhance the influence of their exhibitions in the academic circle and strengthen the depth of academic studies through symposiums.
Gou Mengyuan: What adjustments will the foreign museums need to make to present these Chinese treasures to the world public? What are the difficulties?
Zhang Zikang: Now we have the opportunities to see these precious Chinese cultural relics and artworks, mainly through the long-term display and special collection exhibitions held by large museums and art galleries, which undoubtedly also relies on the in-depth study of Chinese cultural relics and artworks as well as the presentation of relevant research results by research and planning teams of overseas museums. Also, large foreign museums (such as the British Museum, the Metropolitan Museum of Art, etc.) usually have vast collections, so special exhibitions involving Chinese cultural relics and artworks certainly will go through quite a long research period. It is also common in Europe and America that museums loan out their exhibits to each other, relying on their own collections, thus facilitating the realization of a meaningful show. Through inter-museum loan exhibitions, these overseas Chinese treasures will have more opportunities to be shown to the world. Once a loan exhibition is involved, it will need to consider a series of issues such as insurance, transportation, and security. For those collections in poor condition and are not suitable for long-distance transport, it may be difficult to exhibit them again. In order to realize a large-scale academic exhibition, it is necessary to ensure the safety of cultural relics in the process of transport and display, as well as whether the exhibition venue meets the standards of cultural relics conservation and security, which require highly professional quality of museum personnel.
Gou Mengyuan: How to let overseas Chinese art scholars and Chinese people from all walks of life give full play to their advantages in local places and assist museums in increasing efforts to the conservation, research, presentation, and promotion of Chinese artworks?
Zhang Zikang: In the context of globalization and mass communication, to make overseas Chinese art resources adapt to the changes of the times, Chinese art scholars living abroad and Chinese people from all walks life who have blood ties with Chinese culture form a very important force. We can investigate into the ways of overseas audience perceiving Chinese art, and then plan and organize relevant activities; integrate the resources of traditional Chinese art with the internet, cooperate and communicate with local media, and strengthen the production and dissemination of Chinese art resource materials. The propagation activity of Chinese art abroad is not only a simple, practical process but also requires us to change our perspective to re-examine issues related to art from the angle of communication and take measures to guide overseas audiences to have a deeper understanding of traditional Chinese art.
Multiple Ways of Exploring Overseas Chinese Art Resources
Gou Mengyuan: Nowadays, academic research and exchange are becoming increasingly international. How to enhance domestic scholars' research on overseas Chinese art resources? Which institutions at home and abroad can contribute to its realization?
Zhang Zikang: At present, domestic scholars have more and more channels to access overseas art resources, and their studies also are getting deepening. On the one hand, the network information system enables the dissemination of resources to be more convenient, and many digitalized art resources can be shared through the internet. On the other hand, museums, art galleries, foundations, and other institutions have established many cultural exchange programs, which can provide domestic scholars with in-depth access to overseas Chinese art resources through visits, investigations and other opportunities. In recent years, from the Ministry of Culture and Tourism to Key art museums, art academies, and related institutions in China, they all have been actively engaged in the planning of the exchange and communication projects between international museums, including the area of research. At the same time, the news media of the national platform produce relevant TV programs from all angels and carry out exclusive coverage, so as to expand the international influence of Chinese art. For cultural and artistic events, Institutions may organize and plan relevant exhibitions, art festivals, seasonal performance, study visits, and other activities to explore the ways of cross-cultural communication of Chinese art.
Gou Mengyuan: Exhibition, academic exchange, and other activities are essential ways to promote and introduce overseas Chinese art resources. What previous events are worthy of reference? Besides, are there any different ways we can try?
Zhang Zikang: Looking back on the past 30 years, in 1991, the Yale University Art Gallery, USA, once held an exhibition "Master of the Lotus Garden: The Life and Art of Bada Shanren" and a seminar on "Bada Shanren's Calligraphy and Painting Art"; in 1992, the Nelson-Atkins Museum of Art, USA, organized the exhibition "The Century of Dong Qichang" and an international symposium; in 1998, Guggenheim Museum in New York, USA, opened "China 5000 Years: Innovation and Transformation in the Arts"; and in 1999, the Metropolitan Museum of Art, USA, held a forum on "Riverbank and Issues of Authenticity in Chinese Painting", which has inspired many museums around the world to discuss the history of Chinese art and culture before the Song and Yuan dynasties in depth. In 2006, the National Palace Museum in Taipei launched a special exhibition "Grand View – Painting, Calligraphy, and Ju Ware from the Northern Sung Dynasty and Sung Dynasty Rare Books" and held a conference on "The Art and Culture of the Northern Sung Dynasty", setting off a wave of discussion on Chinese art on an international scale.
In recent years, no matter it is the exchange between large institutions or non-governmental intercourse, the link mode between Chinese and overseas art institutions has stepped into a deeper, more equal stage.
For example, in February 2017, in the exhibition "Tomb Treasures: New Discoveries from China's Han Dynasty" held at the Asian Art Museum of San Francisco, USA, the attention-attracting "jade suit sewn with gold threads" came from Nanjing Museum; later, the Metropolitan Museum of Art in New York held an exhibition titled "Age of Empires: Chinese Art of the Qin & Han Dynasties", and also displayed a "jade suit sewn with gold threads" loaned from the Chinese side; while in the exhibition "China and Egypt: Patterns of Civilizations" opened in July of that year, the Neues Museum in Berlin presented a large number of cultural relics collected by Shanghai Museum, as well as a "jade suit sewn with silver threads" borrowed from Xuzhou Museum to Shanghai Museum. It was the first time that most of these artifacts had left domestic museums and been exhibited overseas. The realization of this kind of exhibitions, especially the loan circulation of domestic exhibits, is based on the cooperation between institutions and is the result of the friendly exchanges and negotiations between China and foreign countries. Overseas museums received full support from Chinese museums. The launch of these exhibitions has promoted a new round of narration of ancient Chinese art. The inter-institution loan of collections can facilitate high-quality exhibitions, yet the first thing to consider is transportation. Many of the exhibits in these exhibitions were large and age-old valuable cultural relics, posing great challenges to the transportation work. For example, the Nanjing Museum loaned its collections, "jade suit sewn with gold threads" and a complete set of functional bronze bells unearthed in Dayun mountain, to the Asian Art Museum of San Francisco; the Xuzhou Museum loaned "jade suit sewn with silver threads" to the Neues Museum in Berlin; while Xian's Emperor Qinshihuang's Mausoleum Site Park loaned the Qin-dynasty Terra-Cotta Warriors kneeling for shooting an arrow to the Metropolitan Museum of Art in New York.
Taking this as a reference, through cultural institutions, museums, art galleries, art schools, and non-governmental organizations, China can also support and encourage more exhibit exchanges and exhibition cooperation with overseas art museums, encourage domestic scholars to publish academic papers in foreign authoritative journals and participate in heavyweight international seminars. However, there are still many deficiencies in the current research work, and efforts should also be made to improve the academic mechanism, strengthen the capability of academic studies, attract foreign scholars to join the study and discussion of Chinese art, and enforce the cultivation of research talents.
Gou Mengyuan: To strengthen the collaboration between Chinese museums, art galleries, and overseas collection organizations, and to promote the conservation, research, and publicity of Chinese art treasures abroad, is it possible to establish a long-term cooperative mechanism? What are the possible approaches?
Zhang Zikang: It is necessary to establish a long-acting mechanism for collection, conservation, and publicity abroad. We can try to explore the support of the Ministry of Foreign Affairs, Culture, and Tourism etc., combine with the outstanding scholars from overseas universities or museums with Chinese art research departments and set up a special funding project or scholarship system, used to subsidize overseas talents of Chinese art studies and carry out the projects for the research, conservation and dissemination of Chinese art in overseas museums and other institutions, draw support from local art resources and talent resources, so as to deepen the international community's perception of Chinese art and culture image.
Inside the Art Institute of Chicago, which is one of the three major museums in the US, and also is a museum with many Chinese cultural relics abroad
Integration of the Traditional Way of "Intellect" Serving the Society and the Means of Science and Technology
Gou Mengyuan: You have rich experience in the art museum industry in China, from Today Art Museum to CAFA Art Museum, and you have served as director of private art museum, public art museum and university museum, could you please talk about the advantages of these three kinds of domestic art museums in using overseas Chinese art resources?
Zhang Zikang: These three types of art museums have their own characteristics and advantages in making use of overseas Chinese art resources: private art museums have more flexible operation mechanism, and the resources they can use are mainly in the communication between folk and private collections, while public art museums can achieve the exchange of exhibits among museums of equal position through high-level negotiations. The university art museum, on the one hand, belongs to a type of public art museum, and on the other hand, it is supported with the academic background of the college, so it can carry out more in-depth discussions and is more convenient in the cultivation of research talents.
Gou Mengyuan: As the director of an art museum, you think that art museums should be good at cooperating with social capital and combine the advantages of both to form a stable mutual relationship. In this regard, what do you think are the ways of the cooperation between Chinese and foreign museums and social capital in enlarging the influence of overseas Chinese art resources? What kind of social capital is more advantageous?
Zhang Zikang: In terms of cooperation with social capital, overseas museums undoubtedly started earlier and have a more mature system. The collection and research funds of many overseas museums are closely related to social capital: quite a large number of their collections are donated by individuals or groups, and some museums have their own collection fund, but the scale of these donations is much smaller. Overseas museums often receive the sponsorship of individuals or groups, so as to carry out the work of collection acquisition, research projects, etc. Many countries give preferential measures to the act of donation in terms of the tax policies, which actually encourages the accumulation of art resources and the expansion of the influence of museums. Among them, many social capitals that are enthusiastic about public welfare offer the largest donation and sponsorship to the museum.
Gou Mengyuan: You put forward the idea of "intellect serves the society" as the mission of the art museum and suggest that the art museum use academic resources and academic ability to affect the whole society. Regarding the intellect service, do overseas museums take Chinese art treasures as an essential part of knowledge production? Today, with the rapid development of digital technology, is it possible for Chinese art museums to initiate and promote this cause? If possible, what are the ways that can be explored?
Zhang Zikang: In the development of world museums and art galleries, the concept of "public education" has been intensified in recent years, that is to open their art resources to the whole society, enhance the social effect, and expand their artistic appeal to all members of the society. The real core strength of the art museum is to provide new knowledge and value for the society, so we put "intellect serves the society" into the mission of the art museum. Some time ago, CAFA held an international art education conference, and CAFA Art Museum shared the work of convening and organizing the sub-forum. Through the communication with directors of art galleries and museums from 14 countries around the world, we really feel that how to extend the influence of art museums to different social groups and attract more social members into art museums has become the most crucial work for museums and art galleries of the world. Everyone on site thinks the same way, and the previous situation that the east follows the west no longer exist, as everyone faces the same issues and contributes wisdom together.
In this era of changes, with the development of information network and various high technologies, many traditional patterns need to be broken through, and new concepts need to be established, such as how the network system realizes the new functions of the museum. In these respects, many of China's leading museums can have dialogues with major international museums and art galleries. Therefore, it is entirely possible for domestic museums to participate in the global intellect service of Chinese art reassures, and we are making new explorations in this regard. For example, the establishment of CAFA Art Museum's online Intellect Center put intellectual services into the construction of its membership system. Our Intellect Center has shooting centers in the US, UK, and China, producing independently hundreds of intellect documentaries, covering Chinese art resources in ancient art and contemporary art. Facing a large number of members, it attempts to exploit new ways for art museums to produce intellect for serving society. For art museums, what's more important is to accumulate broader social forces, improve their access to artistic information and knowledge, enrich their recognition of art museums, and use new ideas and expertise to serve the society, which are our latest thoughts and attempts.
Gou Mengyuan: Finally, in your opinion, for the domestic and foreign art circles and the public, what is the most important values and significance to enhance the influence of overseas Chinese art resources?
Zhang Zikang: Today, everyone is sharing excellent art resources around the world, and this kind of increasingly-converging thinking has many benefits, but it also weakens the generation of new values. At this point, the whole world should push for new and unique creations, that is, individualized presentation. In this personalized process, the nutrition given by your own traditional culture is the most sufficient, and in order to earn our right of speech in the cultural level, ultimately, we must rely on our own source of nutrition and knowledge. This kind of knowledge structure refers to the study and cognition of tradition, and also a demand for discovering new possibilities of tradition. To complete the production and evolution of creativity, two aspects of knowledge are indispensable. First, traditional genes, that is, the best left by our ancestors, can be beneficial to future development. The second is new energy, which is the possibility of new high technology to promote the future development of human beings, such as the change of big data to people, and so on. We should have these two thinkings, in the premise of building cultural self-confidence, and gradually establish Chinese cultural height today.
(This article is arranged from the interview and reviewed by Zhang Zikang)
Written by Gou Mengyuan
The original article is published in the 3rd issue of "Art Observation" in 2019