On March 26, 2020, an online conversation initiated by the Student Union of the Central Academy of Fine Arts(CAFA) and organized by the Learning and Practice Department of the Central Academy of Fine Arts, was held online as scheduled. In this dialogue, Zhang Zikang, director of the art museum of CAFA(CAFAM), and Wang Chunchen, deputy director of the art museum, discussed the topic of "art museums in times of epidemic" and answered the questions raised by the students based on their working experiences.
I. Art Museums and Art in Epidemic Times
Q: In the midst of an epidemic, can the arts somehow address social issues?
Wang Chunchen: Although viral transmission and epidemics occur at different levels every year, they are not as serious as what we faced now - which has caused the suspension of the entire society. So what can art do under these circumstances? This is a fundamental question, like the question which is often asked - "What is the use of studying art?" I think we need to reflect not only on what art is, but also on the current state of the entire social structure and social management.
If we are talking about saving the sick and eradicating viruses, of course art cannot help with anything. However, art can do more than just painting a picture. Artists can raise questions, including questions that are conclusive and sociological. There are many ways to make artwork beyond simple visual expression. The function of art also requires a transformation, as contemporary art is not just about aesthetics and visuals. In a sense, the artist borrows visual methods such as sculpture and painting to convey what is actually a response and provocation to our social situation and problems. Art is combined with society in this way and make its contribution.

Q: What are the difference between the operation of a museum during the epidemic and normal time? Except for the online part, has the operation of a museum become easier or more difficult compared to usual?
Zhang Zikang: None of us have the experience to operate a museum during the epidemic. Many new ideas are difficult to realize, because of the immaturity of our software and curation method required for exhibitions, which we do less in the past. So it's really a new challenge for us. However, the museum has been doing some work under the existing conditions, such as representing past exhibitions in a virtual way. Our "Digital Learning Center" has also made some short documentaries about introducing exhibitions, lectures, and books, which are now available on our website. However, if we want to do a deeper job for a virtual museum, we're still working on every step of the way. As for the difference, it's that the museum's work and operations must be done in an online virtual environment. However, the museum's main role is still to present valuable art, to achieve its educational function, and to promote public aesthetics and social creativity. This goal remains unchanged.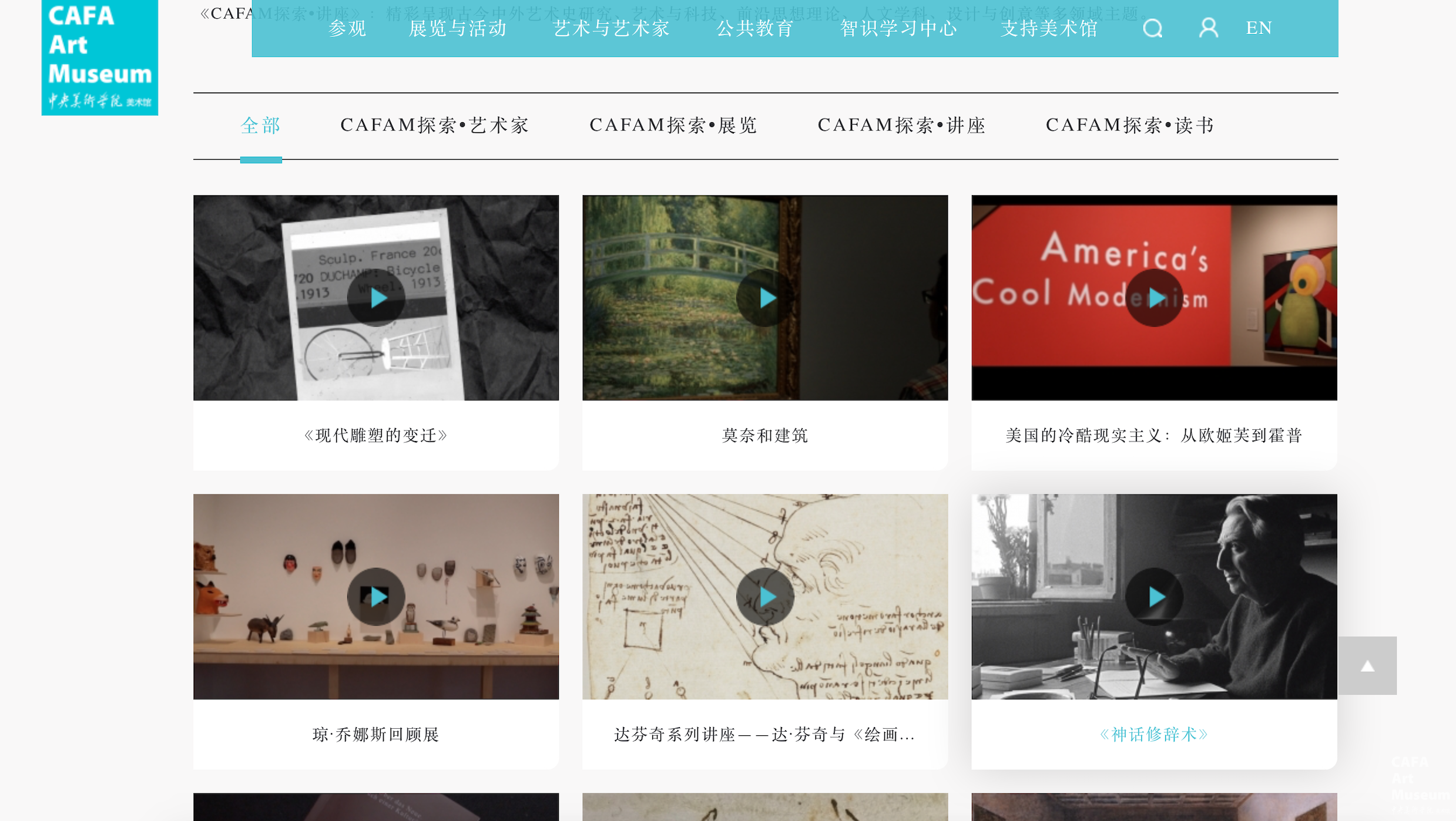 Documentaries produced by "Digital Learning Center", available on the website of CAFAM
II. Virtual Exhibitions and Digital Museums
Q: "Online art exhibition" is a hot topic these days. There is one student asked, "What do you think about the online exhibition during the epidemic? Another student also mentioned, "I feel that there is a big difference between an online exhibition and an offline exhibition. For an online exhibition, you can't get close to see the works, and you can't understand the artists' ideas like you can in a lecture. How can an online exhibition solve these problems? What directions should the online exhibition go in?"
Zhang Zikang: There are lots of differences between online and offline exhibitions. For example, offline when we look at the work in an actual space, especially as a curator or a designer of the exhibition, we have to consider the relationship between the work and the way it is viewed. For example, if the work is more suitable to be viewed from a distance, we have to put it in a distant position before letting the viewer see it up close. The feeling of seeing the work from a distance is different from seeing the work partially first. The whole process of viewing has to be well managed in our constant design and adjustment, to make sure its expression is consistent with the emotions, ideas and thoughts expressed by the artist. When we consider this kind of relationship in making a virtual exhibition, we have to consider how the artist creates this work digitally, and what is his feeling during the creation process? How to represent this work to our audience, how to make it more palpable and moving, while at the same time reflecting the artistry of the work? Although we do the same work in physical space, but in virtual space and through digital media, let's say we view the work on a mobile phone or in other digital equipment, the experience is very different. The screen of a mobile phone as a carrier is very small, even if it is enlarged, the immersive feeling is still inaccessible.
Besides, when we study a work of art by zoom it in on the screen, let's say the works of Xu Beihong, you can see a lot of details of the work, what actually was not the artist wanted to express intended. So when we go back to cognition, new technology will give this work another possibility. It is one of the differences between online and offline exhibitions. This is also a problem we need to face.
Screenshot from "Digital Dunhuang" website
Q: What is the ultimate goal of a digital museum? Is it for promoting on-site museum visits? Or is it for an overall aesthetic education on a higher level? - For example, Digital Dunhuang was created to preserve the originals by reducing on-site visiting.
Wang Chunchen: This is a question raised by social development naturally. Nobody is going to build a digital museum deliberately. We've entered a digital era and we need digital methods to improve our work. Of course, the concept of "virtual" is even bigger than the concept of "digital", and I think each of us still needs more time to understand, experience and appreciate the tremendous changes that have taken place in our time.
On the one hand, the digital method helps us realizes things that we cannot achieve physically, such as the "Digital Dunhuang". In addition to preserving cultural relics, the Digital Dunhuang could recover and represent damaged caves which are not available now through their advanced technology. It enables the visitors to see the prosperous scenes of Dunhuang in the past again.
On the other hand, because of the digital method, we are forced to rethink and develop the traditional definition of museums. A digital museum can be an independent program, and also could be a complement to a traditional museum. It does not mean that digital museums will completely replace traditional museums, as traditional museums still play an important role in protecting and preserving objects. In terms of collection and research, digital tools and physical operations have formed an interactive and complementary relationship.
I think it is possible to create a total virtual art museum without any physical presence, but it would completely exist on the Internet, which is another feasible idea. It is a chance to use digital means to bring the possibilities of the virtual space, which would be an important subject for further development.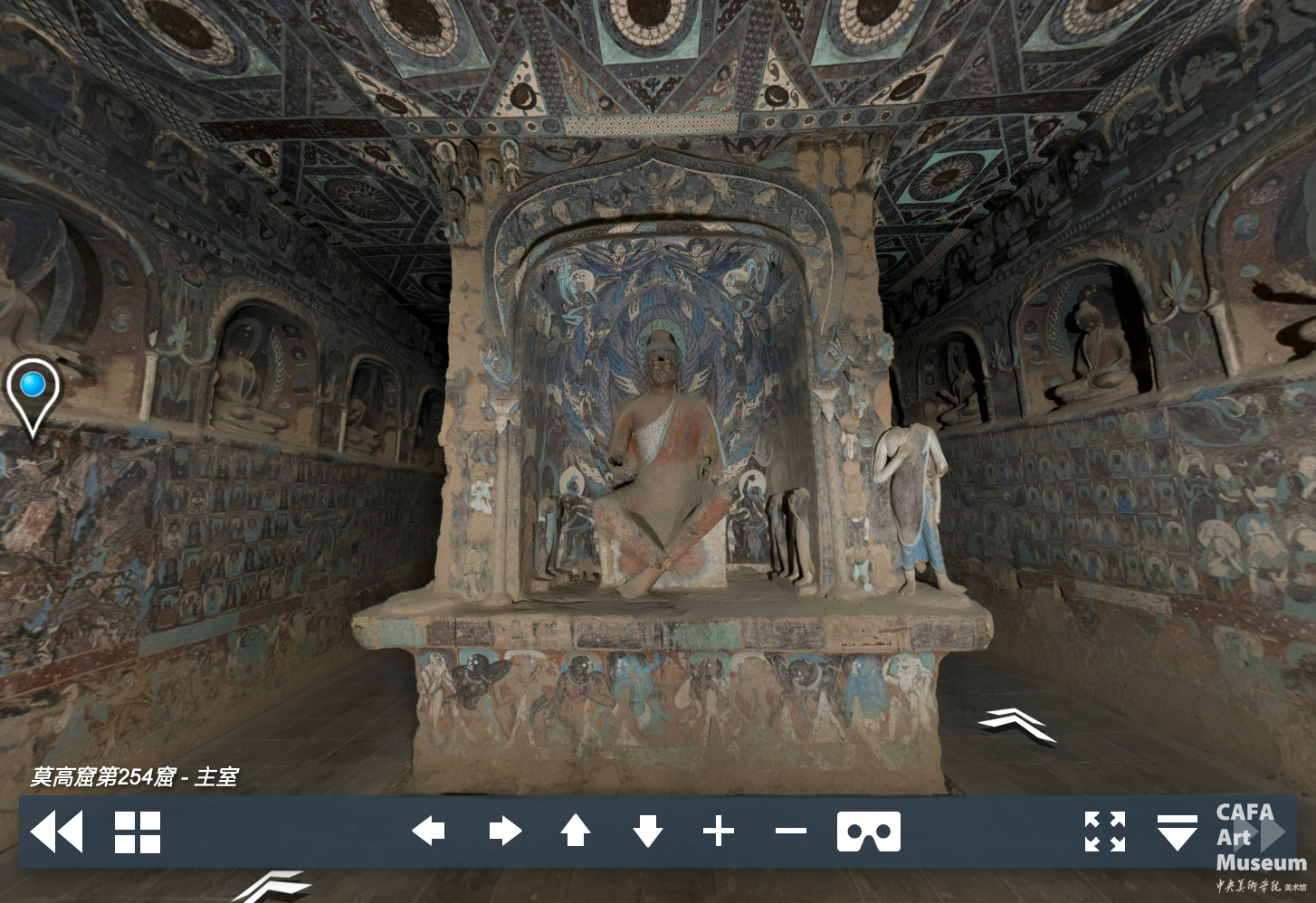 "Digital Dunhuang" virtual tour
Q: Education is an important function of museums and art galleries. Compared to traditional museums, what do digital museum need to pay extra attention to? What are the challenges?
Wang Chunchen: This is a new question, which focuses on "how to conduct public education when you don't have direct face-to-face interaction with the public". I think artists or curators of a virtual exhibition should think about how to interact with the audience from the very beginning of planning the exhibition. For example, some dialogues and comments could be displayed on the screen, and there could be some specially designed programs. It could just like our current Internet connection: if you ask a question at any time, someone or a machine will answer your question immediately. It is one kind of face-to-face interaction.
In terms of how to do public education, it could be a topic for further discussion. In traditional museums, public education means guide tours, workshops or lectures, but in digital museums, it may be more about promoting the audiences' independent thinking, to encourage them to do research and solve problems by themselves. For example, if I see an artist on the internet and I don't understand his work, then there is a project - I have to do research by myself. If you're curating a digital exhibition, I think you should consider the process I mentioned above through the whole process of designing and editing the program. Maybe you could leave a lot of links for the viewer to interact with and explore more information during their virtual tour.
For example, when a concept, a context or a statement is mentioned in a work, it is possible to have an explanatory dialogue, a link or a guide beside the work itself. It is different from traditional face-to-face interaction. The online interaction is more autonomous and allows the audience to decide how to explore and understand. I think it is also a challenge, probably a subject that has not been addressed, a project that are waiting to be further discussed.
But what I want to say here is that this is not just a direction for digital or traditional art museums. Public education is not an indoctrination process that is handed over to others. In fact, many museums no longer use the word "education" in their project, but rather "learning". The word "education" itself carries a certain connotation of compulsion, authoritarianism and even "self-centeredness". What is being advocated now is "everyone has the right to choose what to accept", just like the concept - "everyone is an artist". Museums should allow the public to enter the museum space to experience, explore, share and feel, instead of receiving compulsory education.
The lectures that take place during the exhibition are more of an introduction than a learning experience, so I think the function of the digital museum in the aspect of self-consciousness may be amplified. When an audience finds an object he/she may not familiar with, or when he/she have a special feeling about it, they can search for it and leave a message online. Even in the process of creation of an artwork, the artist can leave some space for the audience to do some self-creation, and to add their own understanding. In fact, there are already some artists doing this. So at this time, an online exhibition becomes an interaction with the audience. It is not an education, but interactive participation. This can even be extended to the concept of the "death of the author", where the author is no longer the main creator of the work. The work opens to everyone to explain.
III. The Operation of Art Museums
Q: How does an art museum to build its brand, and how does it achieve effective research and education outcomes?
Zhang Zikang: I think the museum's brand is mainly built on the museum's valuable scholarship, education and promotion. What is valuable scholarship? It has to be innovative and could bring new knowledge. It is also important not only to maintain a high, serious level, but also need to think about how to promote the public to be familiar with it. Instead of exhibiting whatever the audience wants to see, art museums should allow the audience to learn new valuable knowledge through their visit, and make more people understand it in an approachable way. All of these require the museum to form a good educational system. Only in this way, can the works play their social role.
Q: What are the criteria for CAFAM to select collaborative exhibitions and artists?
Zhang Zikang: Our academic committee will work out a direction for our near future, and all of us will work with the academic committee to raise an overall academic structure. The museum must consider the overall academic orientation when chose which exhibition to do, and if the museum's academic orientation is unclear, it will affect the museum's brand building and academic development. The artist we chose should be truly innovative and also in line with the museum's academic positioning. Of course, a group exhibition is different from a solo exhibition.
Ⅳ. Appreciation and understanding of contemporary art
Q: What do students need to learn to better understand contemporary artworks?
Wang Chunchen: First of all, let's not be afraid of contemporary art. Contemporary art is a new field for those of us who study art, and it is also something that confuses us. There are several areas that we need to pay attention to, even artists should be careful to think of.
Firstly, we have to come out of the classical field, let's say in China, Bird-and-flower painting and landscape painting can not be the only filed we focus on. Secondly, we should not be afraid of new things: the so-called contemporary, in fact, is something we are not used to. Many people feel afraid of things they are not familiar with. It is not good, although it is the normal reaction of people when they face a new culture. Thirdly, we should learn to feel, to think why this work is like this, what does it want to talk about, what is its context. When I do research on an artist, I also don't understand his/her new work, then I have to collect information about the artist and his/her background. When you get all information you need, you will be suddenly enlightened, and immediately understand this work. So when you look at a work of art, you can't just stay at a visual level. Contemporary art gives us a bigger challenge. Sometimes people see a work of art and would say, "What is this? It's so simple! I can do it too!" Actually, all seemingly simple works of art have undergone a very complex conceiving process. I think these few words above will be enough for the general public.
Zhang Zikang: I think Mr. Wang has made a good answer on this topic, and I would like to make a few points. In fact, contemporary art museums have an intellectual system that aims to cultivate audiences' ability to learn on their own, and this process is also being done in many of our exhibitions. For example, when visitors go to an exhibition based on their interest, how do curators ask them questions? How can the artist's work promote the viewer to think? In this process of thinking, we need the audience to have the ability to integrate themselves and generate new knowledge, and I think that's what Mr. Wang meant.